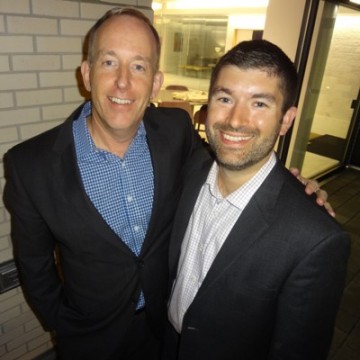 Grand Opening for the Parker Building
Real estate developer Bob Ball opened the doors to The Parker, the Pearl District's newest apartment community, for a party where he invited neighbors, friends and a select group of very powerful Portlanders.
It was a night to celebrate the Autumnal Equinox, see inside the building, and light some fire pits.
To encourage exploration Ball swung open the door on a few apartments with special events, including a showcase of video games made by local indie game developers and a Tech Lounge with food and drinks. Starting at 6:30 p.m., the lounge also featured a series of announcements about new developments and opportunities in the local tech industry.
Up on the sixth floor, in the aptly dubbed "Ball Room,"  many of Portland's most powerful folks gathered to wish Bob well on his latest project. Well-wishers included Mayor Charlie Hales and his wife, Nancy, Jules Bailey, Pat Welch, Jody Stahancyk, John Crawford, Henry Hewitt and two other powerful Pearl District developers, Al Solheim and Howard Hedinger.
Byron Beck, GoLocalPDX Features Editor
Link –GoLocalPDX.com