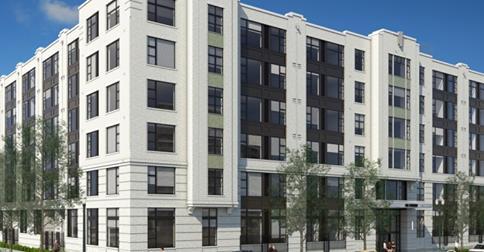 BizJournal – Portland developer excited for what's springing up in the north end of the Pearl
When Portland developer Bob Ball, principal with Astor Pacific LLC, sold his Pearl District apartment building, The Wyatt, back in 2008, he was glad to be out of the real estate game at the right time.
But it didn't take Ball long to start plotting his next move, especially when he saw housing projects being absorbed in the Pearl at a rate of nearly 220 per quarter. He started conceptualizing a new apartment building in 2010, found land in the Pearl's north end near the Fremont Bridge, broke ground in 2012 and is now about to officially open the district's first major residential project in years, The Parker.
"I was actually a little scared about whether I could make this work because I didn't know what was going to happen to the economy," Ball said. "I had to trust my instincts and the data. A lot of people thought I might fail, but I persevered and believed in it."
Not only did Ball have the economic realities challenging his project, but he and his partner, Grant Jones, also went through an incredibly trying personal time in the summer of 2013, as well. It was then that one of their twin sons, Wyatt, born prematurely that July, passed away.
"It was the most difficult thing ever," Ball said. "It's life-changing. That's the only way to put it."
The couple's other son, Parker — yes, the building is named for him — is healthy and has been home from the hospital since Sept. 22, 2013. Ball coincidentally scheduled the grand opening celebration for The Parker on the one-year anniversary of his son's first day home.
About a quarter of The Parker's units were pre-leased during construction, which leaves Ball feeling optimistic about the remaining units.
"It's been a construction zone and people are leasing," he said. "It's only going to get better from here."
The Parker is among the first of many new residential projects under way in the northern section of the Pearl that will add more than 1,000 new units to the district. Ball, who said he's working on a smaller project that's too early to talk about, said he's glad to see the growth, spurred largely, he said, by the organic growth of the tech sector here.
"I think it's fantastic for the neighborhood and the north Pearl," Ball said, "because now I won't be alone out here."